OKO Tire Sealant
---
---
---
(Warning: Strong language)
---
OVERVIEW

The Injector syringes dispense sealant with total accuracy, eliminating concerns over under-dosing or over-dosing.
The screw attachment works on all valve stems and avoids leakages.
The Injector is a product that can be used with any of our sealants, or lubes and other liquids used in the workshop (subject to the user cleaning the unit thoroughly as recommended).
Once purchased, it will have a long lifetime of use for successive tires.
Check out the OKO website here.

---
SPECIFICATIONS
Features
60ml/2 oz. calibrated syringe for bicycles
NEW 150ml/5 oz. calibrated syringe for bicycles, motorbikes, quads, caravans, trailers, cars etc.
Both with flexible dispensing tube and double-thread screw end for clean Presta or Schräder injection.
Including a valve core remover tool.
Precautions
Clean all parts thoroughly after use: if other liquids (lubes etc.) are present in the injector they may contaminate sealant in future use.
No risk and safety labels or warnings are required since this product is not classified as hazardous under current regulations.
Specifications
Benefits
Accurate dose: control the amount and weight of your tire sealant
Sucks up product from bottle then dispenses it
Special connector makes Presta injection easier (for removable-core valves)
Characteristics
Plastic medical-grade syringe with removable plunger
Patented dual-screw thread valve attachment
Valve core remover tool
Supplied in a 6-language pack (English/French/German/Italian/Dutch/Spanish)
---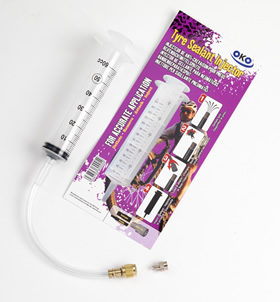 OKO Tire Sealant Injectors
No mess when applying
Patented design
Presta/Schräder screw fitting
Injects precise dose
Multiple uses in workshop
Reusable product: lifetime of use
Original 60ml and NEW 150ml Larger Injector for bigger 2 & 4 wheel machines
---
VIDEO VAULT